About The National Center for Health Equity
The National Center for Health Equity was launched to implement a range of programs dedicated to improving health equity outcomes in the Bronx as well as the other Boroughs of New York City, and beyond.
Maintaining health is key to preventing disease, yet crises occur, chronic conditions exist, and all of us come to crossroads where we may require medical diagnoses and interventions. Access, early and accurate diagnoses, and evidence-based answers to the questions that confront us are critical to healthcare effectiveness.
Overcoming health equity challenges across the United States represents a critical concern.
Our Mission
Deliver the data and resources necessary for individuals to be informed actors in dialogue with their providers, and thus becoming active participants in making timely & appropriate medical choices for themselves and their beloved.
Our Vision
To empower Communities of Color and any other communities facing health equity challenges or traditionally underrepresented populations.
How We Got Started
The National Center for Health Equity grew out of Bronx community organizer Sheikh Musa Drammeh's Lifestyle Lifespan campaign, which has inspired Healthy Lifestyle Month (October) across the state of New York and the promotion of healthy, plant-based eating with New York Mayor Eric Adams resulting in a vegan option for patients in New York's public hospitals, among other reforms.
A health writer for both publishers, Stephen Ditmore, helped bring Sheikh Drammeh together with Daniel O'Connor of TrialSite, who was already working with a nonprofit group in San Antonio, Texas to improve the way clinical trial recruiting is brought to a community and to improve care coordination, helping outpatient clinics better follow up with Medicare and Medicaid recipient patients.
Latest Updates
Things are constantly changing in the medical industry, and we are doing our part to keep Communities of Color informed in the best ways we know how.
See Our News Feed
Sheikh Musa Drammeh
Chairman
Religious leader and Community activist with a focus on public health, safety, and pulling youth out of gangs. Publisher of the Muslim Community Report, Parkchester Times and New York Parrot Newspapers and the founder of Tea-Out-Stress.
Sheikh Musa Drammeh was born in The Gambia. He immigrated to New York in 1986 at age 24 and spent time in Brooklyn and Harlem before taking up residence in Parkchester, a neighborhood in the Bronx, where he and his family have lived for 30 years.
Drammeh has a deep commitment to working as equals with people who do not share his Muslim faith. He has worked closely with the Young Israel Congregation in order to make sure that the Jewish people with whom he shares the community also have a place to worship freely. His efforts have brought together individuals from many different religious backgrounds, sometimes turning those working (and dining) together into unexpected friends. In this way, Sheikh Drammeh hopes to call attention to the obstacles that members of his own religious community have faced and to help others recognize the importance of constructive dialogue between groups.
He is a leading figure for immigrant and Muslim communities in the Bronx and hopes to help heal the relationship between the #NYPD and Bronx communities. He has shared his views at events such as the Bronx Muslim Leaders Forum. Drammeh's 2009 interview with the #BAAHP can be found in the BAAHP oral history archive.
Shireena Drammeh
Community Relations Officer
Shireena Drammeh has led the Islamic Leadership School in the Bronx since she cofounded it in 2001. Besides offering a rigorous curriculum of both secular and religious studies to students K-12, the Islamic Leadership School promotes peaceful co-existence and has partnered with the Museum of Jewish Heritage and several other Jewish and Islamic schools in New York. Prior to founding the Islamic Leadership School, Shireena worked in finance and banking after graduating from the Borough of Manhattan College with a degree in applied science.
Shireena co-founded several nonprofits such as the Islamic Cultural Center of North America, Masjid-Al Iman, and Adopt–A–Friend, Inc. She has been recognized for her outstanding work in the community, and has been honored by the NAACP, Parkchester Branch; Assemblyman Peter River during Women's History Month; Senator Rev. Ruben Diaz Sr. as a Woman of Distinction; and City Comptroller John Liu for promoting peaceful coexistence between Muslims and Jews.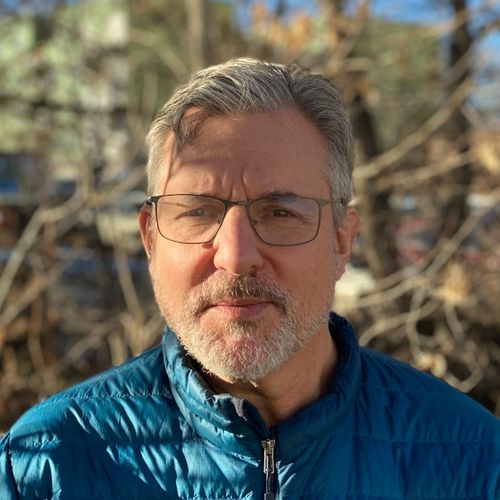 Daniel O'Connor
Program Development Officer
A successful entrepreneur focusing on the intersection of biomedical research, healthcare, and technology, Daniel earned his joint MA and JD at the University of California Los Angeles and the University of California College of Law, San Francisco, before going on to launch a few different technology ventures addressing challenges with clinical trials compliance, efficiency, and quality.
He founded Zorch Software which developed the first Microsoft-based FDA-compliant clinical trials document compliance system, which was acquired and now belongs to multinational DXC Technology—there, O'Connor served as Technology Director for North American Collaboration and Content Management unit. Mr. O'Connor recently founded TrialSite Inc, a leading multi-channel media platform dedicated to research transparency, accessibility, and empowerment.
Through TrialSite Inc, he partnered with El Paso's Medial Center of America Foundation, dedicated to diversifying clinical research participation both from the standpoint of patient participants as well as investigators and research coordinators—all part of the effort to improve health equity in research.
Mr. O'Connor also supports a leading Chronic Care Management startup working with over 100 rural clinics, federally qualified health centers, and other healthcare providers called CrossTx. Daniel is also a co-founder of the National Center for Health Equity.
Stephen Ditmore
Operations Manager
Stephen, who grew up in a medical family, has had a lifelong passion for working across differences & problem-solving. An industrial designer and briefly a high school geometry teacher, Stephen developed a passion for quality assurance and health journalism/science communication late in his career. He leaned into that with the arrival of the SARS-2 virus.
Stephen converted to Judaism in 1990 and moved to the Riverdale section of The Bronx in 1997. He has been deeply involved in Muslim/Jewish interfaith dialogue since 2001, through which he came to know Sheikh Musa Drammeh & Shireena Drammeh.
Elba Lopez, PhD.
Lifestyle Lifespan Curriculum Development Officer
Elba N. Lopez has earned a Ph.D. from New York University in Curriculum and Instruction, Supervision and Administration, and Bilingual Education. She has worked as a Curriculum Specialist and has been a teacher, an Assistant Principal, and Principal for the NYCDOE.
She has implemented and supervised the Growing Healthy Curriculum as well as developed and improved instructional materials used in classrooms. In addition, she has reviewed Curriculum, selected instructional materials, created and applied the curriculum, and provided feedback to teachers and District Personnel.
Dr. Lopez brings to this program a wealth of knowledge and experiences in the field of wellness, health topics, teaching methods, and professional development.
Mutiu Olawuyi
Press Secretary
Mutiu Olawuyi is an international multi-award-winning writer/poet, journalist, media manager, PR consultant, editor, and publisher. Before he fully joined the media fraternity, he was an English language and Literature instructor with academic and administrative leadership experiences at the high school and university levels.
He was also a curriculum developer and academic consultant to some universities in East Africa, such as International Open University, Abarso Tech University, Edna Adan Medical University, and Gollis University. As a media expert, he works as the CEO and Chief Editor of Muslim Media Corporation, the publisher of New York Parrot, Muslim Parrot, Senegambia Parrot, and Parkchester Times – all based in New York.
He is also a TV presenter, director, and producer with practical experience at CBA TV East Africa and Parrot TV New York. He has to his credit numerous creative writing books (Among them are American Literary Legends and Other Poems [2010], Thoughts from the Jungle [2012], 9/11 Poetry [2012], and The Journey to the Archangels [2013]), and has edited several international anthologies, academic journals, and magazines.
Mutiu is the inventor of a new form of poetry called 9eleven (a poem of 9 lines written with 11 syllables) and the first writer (in English) of a story without a verb – The Blotted Pawpaw (published in 2013 by Bharat College in India). He has some of his poems, short stories, and research/academic papers published in online and offline journals and magazines in India, Hungary, Ireland, England, Canada, Greece, Nigeria, and the USA. Finally, some of his works have been translated into Arabic, French, Esperantos, Yoruba, Hindu, Spanish, Greek, and Hungarian.